The courses offered are aimed primarily at students with some background and/or interest in ancient studies.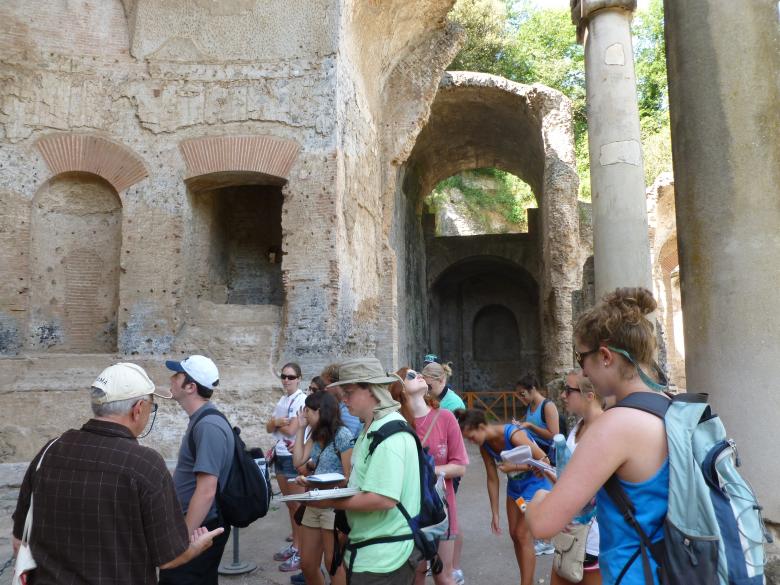 All undergraduate participants enroll for a total of up to nine (9) semester hours credit.
Graduate enrollment, courses and credit: Graduate students sign up for two classes (six credit hours) at the 6000 level.
Non-credit option for students who know some Italian: informal weekly or bi-weekly walks, visits, and special activities led in Italian by Dr. Elena Bianchelli
 
All students enroll in CLAS 4350 (Ancient Rome: Topography & Monuments), CLAS 4400 (Studies Abroad in Rome: The Art of Rome), and CLAS 4305 (Special Topics: The Classical Tradition of Rome) or IF DEMAND WARRANTS IT—for Latin majors and minors or those with prior experience in Latin—LATN 4405 (The Latin Tradition of Rome) may be substituted for CLAS 4305, by permission of the director.
All courses have the honors option available where appropriate; thus Honors Program students can receive up to nine hours of Honors credit through the program. Graduate enrollment, courses, and credit—when appropriate—must be arranged individually with Dr. Bianchelli or Dr. Abbe.
COURSEWORK AND EXPECTATIONS
The Program requires that each student take nine semester-hours for credit during the summer (sometimes six in the case of graduate students):
· CLAS 4350 (or 4350H) "Ancient Rome" examines the topography, archaeology, and architecture of the ancient city as a "palimpsest."
· CLAS 4400 (or 4400H) "The Art of Rome" investigates ancient art and architecture, and their influence on Rome's artistic & architectural achievement.
· CLAS 4305 (or 4305H) "The Tradition of Rome" relates ancient Rome to later periods through art, architecture, history & literature.
· LATN 4405 "The Latin Tradition of Rome" may be taken instead of 4305/6305 to explore Latin literature closely related to Rome.
NOTA BENE: Students who sign up for the Latin class, do not take CLAS 4305, but they are still expected to participate in all the field trips and activities. Each class meets for and participates in ALL field trips, as well as in-class sessions, as scheduled by the instructor. Reading assignments are made from the textbooks students bring with them. Grades are assigned, as they would be in Georgia, on the basis of tests, papers, and a final three-hour examination. Since the students for this program are drawn from the upper grade-levels of the state's students, it is expected that more high grades will be awarded than in a normal class, but this does not relieve students of the responsibility to perform up to their potential.
Attendance and preparation for all classes and for all scheduled tours and excursions is mandatory.