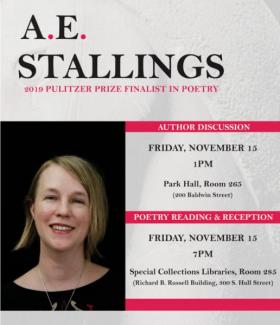 265 Park Hall
The Georgia Review and the Georgia Writers Hall of Fame invite you to join us for a day with UGA alumna and 2019 Pulitzer Prize finalist A.E. Stallings. 
On Friday, November 15, The Georgia Review will host a discussion with Stallings at 1:00 p.m. in the Park Hall auditorium (Room 265). Then, at 7:00 p.m. that evening, The Georgia Review and the Georgia Writers Hall of Fame will present a reading and reception with Stallings at the Richard B. Russell Building Special Collections Libraries (Room 285). 
Both events are free and open to the public, although registration is requested for the evening reading and reception. 
These events are part of the University of Georgia's Spotlight on the Arts festival, which runs from November 6–17, and the Georgia Writers Hall of Fame weekend, November 15–17.
Earlier this year, A.E. Stallings's poetry collection Like was a 2019 Pulitzer Prize finalist. Stallings's previous poetry collections are Archaic Smile, which won the Richard Wilbur Award; Hapax, which won the Poet's Prize and the American Academy of Arts and Letters' Benjamin H. Danks Award; and Olives. She has also published a verse translation of Lucretius's The Nature of Things. Her work has been supported by grants and fellowships from the National Endowment for the Arts as well as the Guggenheim and MacArthur foundations. Stallings, who earned her B.A. in Latin from the Classics department at University of Georgia, currently lives in Athens, Greece.
Current UGA students interested in a complimentary copy of Like should RSVP for Friday's author discussion by emailing garev@uga.edu. A limited number of copies are available to students on a first-come first-served basis, thanks to the generous support of the Georgia Writers Hall of Fame endowment.