Department Head and Professor
Undergraduate Coordinator
Academic History
Yale University: Ph.D. 1995, M.Phil 1993, M.A. 1992: Classical Studies
University of Ottawa: M.A. 1990: Classical Studies
Carleton University: B.A. Hon 1989: Classical Studies
Research Interests
My research focuses on Death, Classical Reception and Metatheatre in the staging and viewing of spectacle entertainment:  The Spectacular Dead: The Theatricality of the Dead in Classical Antiquity (Bloomsbury, 2025) explores the staging and viewing of Roman corpses from antiquity to contemporary funerary practices and museum displays, asking the question, "Is a corpse art?" A Cultural History of Death: Antiquity, ed. Mario Erasmo, is part of a multi-volume series (Bloomsbury, 2022) that assembles leading scholars who examine themes of dying, disposal, and commemoration in multiple volumes from Antiquity to the Present.  In Death: Antiquity And Its Legacy I.B.Tauris/ Oxford University Press Ancients and Moderns series (2012), I explore how ancient death rituals inform and engage modern funerary rituals, burials, and commemoration. This book expands upon my Reading Death in Ancient Rome (Columbus, 2008) which examines death ritual as a cultural intertext of epitaphs, drama, and epic to analyze authorial agendas that are often at odds with actual funerary rituals.
The potential for theatre space to elicit scripted and unscripted actor and audience responses is explored in Roman Tragedy: Theatre to Theatricality (Austin, 2004) that was the first monograph devoted to Roman tragedy in over 125 years. I focus on the reciprocity between the reality of the theatre, actual and figurative, and the audience. I take a semiotic approach to explore the inter (and intra-) textuality of theatre texts and performances within their cultural contexts from the founding of the Roman theatre to its evolution as metatheatre in the Late Republic and Early Empire. Seneca's tragedies create metatheatre through intertextuality with other literary genres, including epic: "The Argo Killed Hippolytus: Roman Tragedy in the (Meta-) Theatre." Brill's Companion to Roman Tragedy, ed. George W.M. Harrison (Leiden, 2015). Most recently, The Theatre of Pompey: Staging the Self through Roman Architecture (AAR 65 2020) examines the portraiture of space in the opening games of Pompey's Theatre.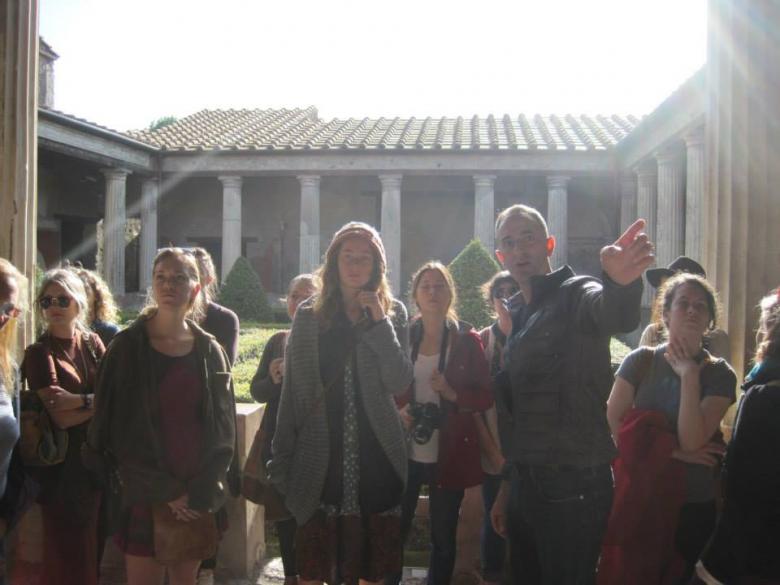 Strolling Through Rome: The Definitive Walking Guide to the Eternal City (2015) and the companion walking guide Strolling Through Florence: The Definitive Walking Guide to the Renaissance City (2018) take visitors step-by-step through the eras and areas of the cities to experience first-hand the historical reception of Classical antiquity, from art and architecture to urban development. I lead tours throughout Italy and Europe on the Europe Unearthing the Past UGA Classics study abroad program and occasionally on UGA Cortona. Itineraries contextualize the reception and influence of ancient art and architecture from the medieval period to the present. The Parthenon Sculptures debate informs visits to the New Acropolis Museum in Athens, Greece and the British Museum in London. Tours also follow in the footsteps of Grand Tour visitors at ancient sites, museums, cemeteries, and villas to trace contemporary cultural resonances of the collection of ancient art and the legacy of Neoclassicism in Europe and North America. 
Archaic Latin Verse (Focus Publishing, 2nd edition: 2004) is a text and commentary edition of Latin verse from carmina to the historical epics of Livius, Naevius and Ennius, including selections from the earliest Roman tragedies and comedies, and fragments from the satires of Lucilius. Commentary notes contextualize the passages within their cultural contexts and anticipate their imitation by later dramatists and Augustan and Silver Epic poets with their own political and cultural agendas.
Graduate Proseminar Topics:
The Legacy of Imperial Rome: Mussolini's Mostra Augustea della Romanit`a
Dead Vergil from Statius to the Grand Tour: Death in the Epic and (Sub-) Urban Landscape of Rome and Naples.
Research

Research Interests:

Death, Classical Reception, and Metatheatre
Selected Publications

Selected Publications:

A Cultural History of Death in Antiquity, ed. Mario Erasmo
A Cultural History of Death in Antiquity (500 BCE- 800 CE) is part of a 6 illustrated volume Bloomsbury series on the history of death from antiquity to the 21st century under General Editor Douglas J. Davies. The 6 volumes (Antiquity, Medieval Age, Renaissance, Age of Enlightenment, Age of Empire and Modern Age) will be published together and contain 8 identical chapter titles. Contributors: Valerie M. Hope, Robert Garland, Evy Johanne Håland, Emma-Jayne Graham, Penelope J.E. Davies, Maureen Carroll, Anton J.L. van Hooff, and Debbie Felton. Published in 2020.
 

Strolling Through Florence: The Definitive Guide to the Renaissance City
To walk through Florence is to step into one of the most remarkable histories of any European city. From its establishment by Julius Caesar in the first century BC, through its Golden Age at the epicentre of the Italian Renaissance, to its position as an iconic cultural destination in the twenty-first, Florence is a small city that packs a lot of punch. This is the birthplace of Dante and Boccaccio, Leonardo da Vinci and Michaelangelo, the Medicis, Botticelli, Donatello and the `Mad Monk' Savonarola. Their stories permeate every corner of Florence, but the city's contemporary scene is just as alluring, from cutting edge art and fashion to food. It is only by exploring Florence on foot that the visitor can truly experience everything the city has to offer. In this indispensable guide, Mario Erasmo has created ten bespoke walking tours - from `Florence in a Day' to `Dante's Florence' - that will appeal to every kind of traveller and unlock the secrets of this remarkable city.

Strolling Through Rome: The Definitive Walking Guide to the Eternal City
How can one visit the monuments and sites of Rome and not feel overwhelmed? Strolling Through Rome guides visitors, first-time or returning, through the streets, museums, piazze, and parks of the Eternal City. A guidebook that acts as a companion rather than an obtrusive guide, Erasmo's walking tours are literal strolls through history and often retrace the exact steps taken by ancient Romans, early Christians, Medieval Pilgrims, Renaissance Artists and Architects, and Northern Europeans on the Grand Tour. Visitors and readers will be given a cultural history of Rome that contextualizes the history, art, and architecture of various periods of the City within a single book. This informative and lively book incorporates the latest archaeological and architectural research and is essential for anyone intending to explore the extraordinary sights and fascinating secrets of one of Europe's most beguiling cities.

Death: Antiquity And Its Legacy
Personal and yet universal, inevitable and unknowable, death has been a dominant theme in all cultures since earliest times. Remarkably, across the span of several millennia and despite the myriad of cultural profusions since antiquity, we can recognize in the customs of ancient Greece and Rome ceremonies and rituals that have lasting resonance today in both the East and West. For example, preparing the corpse of the deceased, holding a memorial service, the practice of cremation and of burial in "resting places" are all processes that can trace their origin to ancient practices. Such rites--described by Cicero and Herodotus, among others--have defined traditional modern funerals. Yet of late there has been a shift away from classical ritual and somber memorialization as the dead are transformed into spectacles. Impromptu roadside shrines, "virtual" memorials, the embalmment of the deceased in the attitude of daily activity, and even firework displays have come to the fore as new modes of marking, even celebrating, bereavement. What is causing this change, and how do urbanization, economic factors, and the rise of individualism play a part? Mario Erasmo creatively explicates and explores the nexus between classical and contemporary approaches to death and interment. From theme funerals in St. Louis to Etruscan sarcophagi, he offers a rich and insightful discussion of the end of life across the ages.

Reading Death in Ancient Rome
In Reading Death in Ancient Rome, Mario Erasmo considers both actual funerary rituals and their literary depictions in epic, elegy, epitaphs, drama, and prose works as a form of participatory theater in which the performers and the depicters of rituals engage in strategies to involve the viewer/reader in the ritual process, specifically by invoking and playing on their cultural associations at a number of levels simultaneously. He focuses on the associative reading process—the extent to which literary texts allude to funeral and burial ritual, the narrative role played by the allusion to recreate a fictive version of the ritual, and how the allusion engages readers' knowledge of the ritual or previous literary intertexts.

Such a strategy can advance a range of authorial agendas by inviting readers to read and reread assumptions about both the surrounding Roman culture and earlier literature invoked through intertextual referencing. By (re)defining their relation to the dead, readers assume various roles in an ongoing communion with the departed.

Reading Death in Ancient Rome makes an important and innovative contribution to semiotic theory as applied to classical texts and to the emerging field of mortality studies. It should thus appeal to classicists as well as to advanced undergraduate and graduate students in art history and archeology.

Roman Tragedy: Theatre to Theatricality
Roman tragedies were written for over three hundred years, but only fragments remain of plays that predate the works of Seneca in the mid-first century C.E., making it difficult to define the role of tragedy in ancient Roman culture. Nevertheless, in this pioneering book, Mario Erasmo draws on all the available evidence to trace the evolution of Roman tragedy from the earliest tragedians to the dramatist Seneca and to explore the role played by Roman culture in shaping the perception of theatricality on and off the stage.

Performing a philological analysis of texts informed by semiotic theory and audience reception, Erasmo pursues two main questions in this study: how does Roman tragedy become metatragedy, and how did off-stage theatricality come to compete with the theatre? Working chronologically, he looks at how plays began to incorporate a rhetoricized reality on stage, thus pointing to their own theatricality. And he shows how this theatricality, in turn, came to permeate society, so that real events such as the assassination of Julius Caesar took on theatrical overtones, while Pompey's theatre opening and the lavish spectacles of the emperor Nero deliberately blurred the lines between reality and theatre. Tragedy eventually declined as a force in Roman culture, Erasmo suggests, because off-stage reality became so theatrical that on-stage tragedy could no longer compete.

Archaic Latin Verse
Archaic Latin Verse offers commentary of the earliest surviving Latin work with selections from oral verse of Livius, Naevius, Ennius, Caecilius, Accius, Pacuvius, and Lucilius.

 
Courses Taught