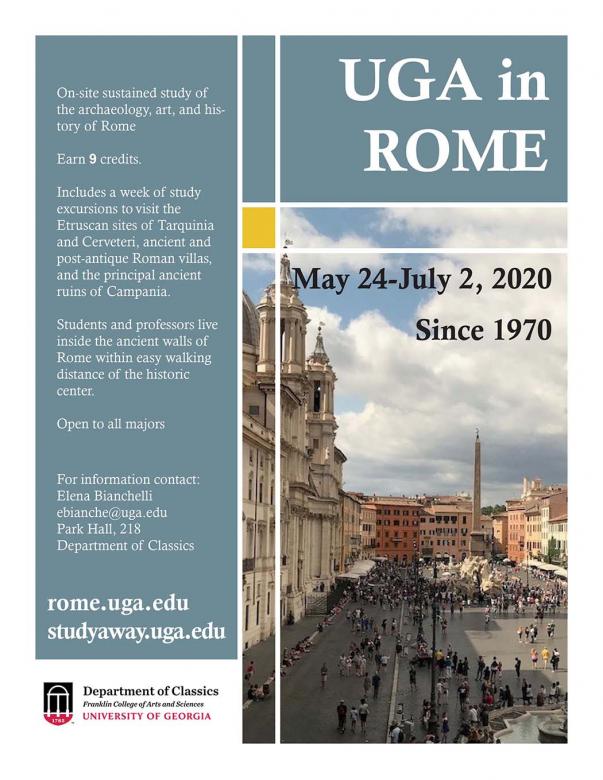 The Department of Classics encourages its majors and minors to study abroad to enhance their understanding of the classical world. The Department operates its own Study Abroad program in Rome (UGA Classics in Rome) which offers undergraduate students nine hours of course credit during the summer. 
During this trip, students will be staying in Rome, but students will take a multi-day trip to the Bay of Naples to visit Pompeii, Herculaneum, various villas buried by the eruption of Vesuvius, Paestum, and the Archaeological Museum of Naples. They will also take day trips to the Etruscan sites of Cerveteri and Tarquinia, to Hadrian's Villa and Villa d'Este in Tivoli, and to Ostia Antica.
Watch the full video, Roma Amor by Alan Flurry, about UGA Classics Study Abroad in Rome HERE!
Watch the full video, Filmed by Anna Conti, Summer 2016 HERE!
Watch the full video, Filmed by Alan Flurry, Summer 2014 HERE!
Additional Information
Location: Rome, Italy, founded in 753 B.C.
Institution: The University of Georgia Department of Classics.
Student Body: Approximately 15-20 students per summer.
Housing: At the Hotel Ercoli at the northeast end of the Quirinal hill (via Collina, 48), just inside the ancient Aurelianic Wall, where the group has stayed each summer since 1975.
Orientation in Athens in March.
Courses: CLAS 4350 (Ancient Rome), CLAS 4400 (The Art of Rome), and CLAS 4305 (The Urban Tradition of Rome) or LATN 4405 (The Latin Tradition of Rome).
Activities:  Most participants take three upper level courses in ancient Roman civilization, all of which center around regular group field trips and explorations in the city. Some coverage of later periods (medieval, renaissance, baroque, fascist) will be included. 
Day trips outside the city include visits to the Etruscan sites of Tarquinia and Cerveteri, Hadrian's villa and the Villa d'Este at Tivoli, and other venues. The group takes a multi-day trip to the Bay of Naples to visit Pompeii and other ancient sites buried by the eruption of Mt. Vesuvius, the Naples National Archaeological Museum, the Greek temples at Paestum, and other ancient remains in Campania.
Academic Calendar: Six weeks from late May to early July.
Faculty: Dr. Elena Bianchelli (UGA) is the Program Director, responsible for recruiting and financial arrangements;

Dr. Chris Gregg (George Mason University) is the Co-Director and Professor-in-Charge, who will t

each most of the courses and lead the group in Rome and Campania.
Program Fees: See the fees HERE. PROGRAM COSTS DO NOT INCLUDE AIRFARE OR TUITION. Students who are not residents of Georgia or do not attend a University System of Georgia school will pay an additional $250 out of state fee. UGA tuition and fees will be charged to the student account, just as if the student were taking classes on campus, and must be paid before the departure for Rome.
**PLEASE NOTE: This program is physically strenuous. Participants must be able to climb hills and walk several miles a day over uneven terrain.**