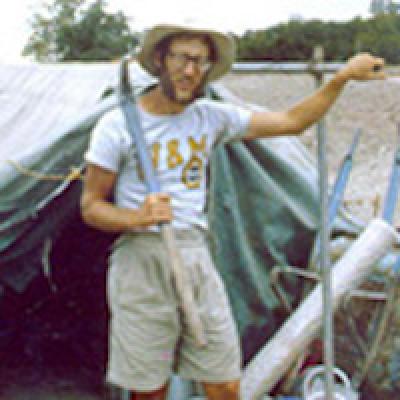 SPECIAL INTERESTS:
Ancient Libraries
Field Archaeology
Augustan Poetry
Topography
Cicero
Intellectual and Social History
Aristophanes
Epigraphy
ACADEMIC HISTORY:
Ph.D. 1986  University of Michigan, Classical Studies    Dissertation: "Private and Public Libraries at Rome in the First Century B.C."
 
A.M. 1981  University of Michigan, Classical Studies
 
A.M. 1978  University of Michigan, Classical Art and Archaeology
 
A.B. 1976  Princeton University, Classics with High Honors Thesis: "Foreign Cult Sites in the City of Rome: Hercules, Aesculapius, Magna Mater, Isis"
BOOKS AND EDITED VOLUMES:
"Beware the Ides of March: Rome in 44 B.C.E.," with Carl Anderson and Naomi Norman, 2011.
An interactive game in the Reacting to the Past series.
Student manual (215 pages), Instructors manual (91 pages).
Available by download from http://www.barnard.edu/reacting/resources.htm.
PEDAGOGICAL BOOKS:
Carl Arne Anderson and T. Keith Dix A Commentary on Aristophanes' Knights, University of Michigan Press, May 2020. 256 pages.
The Beginning of Understanding: Writing in the Ancient World, with Marti Lu Allen.  Exhibition catalogue, Kelsey Museum of Ancient and Mediaeval Archaeology, University of Michigan, 1991.  158 pages.  (An excerpt from the catalog is available online at  http://scriptorium.lib.duke.edu/papyrus/texts/rule.html.)
ARTICLES AND BOOK CHAPTERS:
"Exploring Roman Libraries," 384-387, in Milena Minkova and Terence Tunberg, Latin for the New  Millennium, Bolchazy Carducci Publishers, 2008
 
"Libraries in Roman Baths?" with George W. Houston, Balnearia (Newsletter of the International  Association for the Study of Ancient Baths) 4 (1996), 2-4
 
"Vergil in the Grynean Grove: Two Riddles in the Third Eclogue," Classical Philology 90  (1995), 256-262
 
"'Public Libraries' at Rome: Ideology and Reality," Libraries and Culture 29 (1994), 282-296
 
Contributor, The Beginning of Understanding: Writing in the Ancient World (Kelsey Museum of  Ancient and Mediaeval Archaeology, University of Michigan, 1991):  Essay, "Writing Systems and the Dissemination of Writing in the Ancient World," 15-18;  seven introductory sections, fifty catalogue entries (description, translation, commentary, and bibliography for each object), 109-118, 132, 134-137, 141-149
"Ovid Strikes Out: Tristia 3.1 and the First Public Libraries at Rome," The Augustan Age 7 (1988), 2735
ENCYCLOPEDIA AND HANDBOOK ENTRIES:
"Basileia," with Carl Anderson, in Encyclopedia of Greek Comedy, edited by Alan H. Sommerstein (Malden, MA 2018) (250 words)  
 
"Libraries, private, public (Greece and Rome)," Encyclopedia of Ancient History, edited by Roger sBagnall, Kai Brodersen, Craige Champion, Andrew Erskine, and Sabine Hübner (Malden, MA
2012) (2000 words)
 
"Karpathos," with Carl Anderson, Encyclopedia of Ancient History, edited by Roger Bagnall, Kai Brodersen, Craige Champion, Andrew Erskine, and Sabine Hübner (Malden, MA 2012) (350 words)
 
"Alexandrian Library," in Encyclopedia of the Ancient World, edited by Thomas J. Sienkewicz   (Pasadena 2002), 230
 
"Books and Bookmaking," in Bruce M. Metzger and Michael D. Coogan, eds., The Oxford Companion to the Bible (New York 1993), 93-95
REVIEWS:
Elaine Fantham, Roman Literary Culture (2nd ed.), in SHARP News 24.2 (Spring 2015), 16-17
 
Alison Cooley (ed.), The Afterlife of Inscriptions and The Epigraphic Landscape of Roman Italy, in  American Journal of Archaeology 107 (2003), 134-136
 
Lionel Casson, Libraries in the Ancient World, in Journal of Roman Archaeology 15 (2002), 469-478
 
Fabrizio Fabbrini (ed.), Maecenas. Il collezionismo nel mondo romano dall' età degli Scipioni a  Cicerone, in BMCR 2002.03.20
 
Barbara Weiden Boyd, Vergil's Aeneid, 10 & 12: Pallas & Turnus, in Classical Outlook 77 (2000), 130-  131
 
Kevin Robb, Literacy and Paideia in Ancient Greece, in Classical Outlook 74 (1997), 79
 PAPERS READ:
"Reacting to the Past Pedagogy and 'Beware the Ides of March, Rome in 44 BCE,'" with Carl   Anderson, SCS, January 2015
 
"Λάβε τὸ βuβλίον· Orality and Literacy in Aristophanes," with Carl Anderson, Orality and Literacy in   the Ancient World X,  June 2012  
 
"Vergil at the Races: The Contest of Ships in Book 5 of the Aeneid," with Carl Anderson, CAMWS,   March 2012; University of Georgia, April 2012
 
"What is Reacting to the Past? An Introduction to the Pedagogy," CAMWS Southern Section, October 2010
 
"Games Students Play: 'Reacting to the Past' and Student Engagement in Learning," with Carl Anderson, CAMWS, April 2009
 "Bibliothecam tuam cave cuiquam despondeas: Assembling a Private Library at Rome," Ancient  Libraries Conference, School of Classics, University of St. Andrews, September 2008
 
"ut fuit acris vehementiae, sic quoque spectari monumenta sua voluit: Asinius Pollio and his Library,"   CAMWS, April 2008
 
"After the Ides of March: History, Agency, and Chance in a Classroom Game," with Carl Anderson,  CAMWS, April 2007
 
"Finding a Place for You: The Placement Service and Other Aids," panel "On the Market: A Workshop  for Job Seekers," APA, January 2007
 
"'Immortal Spirits Speak In Those Same Places:' Invoking the Dead in Roman Libraries," CAMWS Southern Section, November 2006
 
"Reading Rooms and Tombs," CAMWS, April 2006; Michigan State University, March 2006; conference, "Material Cultures and the Creation of Knowledge," Centre for the History of the  Book, University of Edinburgh, July 2005
 
"Julius Caesar's Plans on the Capitoline," AIA, January 2006; APA, January 2005
 
"Reacting to the Past: An Introduction," CAMWS, April 2005
 
"τις εστιν η βασιλεια; and Some Other Problems in Aristophanes' Birds," with Carl Anderson,  CAMWS Southern Section, November 2004
 
"Cicero's Library at Antium," CAMWS, April 2004
 
"Who Were the Eteokarpathioi?" with Carl Anderson, CAMWS, April 2003
 
"Libraries of Ancient Rome," Michigan State University, March 2003; Thomas P. Johnson  Distinguished Visiting Scholar Lecture, Rollins College, March 2002
 
"From the Sea to the Sahara: The Romans in North Africa," Mediterranean Society of America  (Richmond, Virginia), November 2000   "'Seeking My Brothers in Vain:' Imperial Libraries and Public Memory," symposium, "Tyranny and  Transformation," Michael C. Carlos Museum, Emory University, October 2000
 
"Aristotle's 'Peripatetic' Library," conference, "Lost Libraries," 4th Biennial Conference sponsored by  the Cambridge Project for the Book Trust, Magdalene College, Cambridge University,  September 2000
"Greek Culture, Royal Rivalry, and Hellenistic Libraries," conference, "Material Cultures: The Book, the Text, and the Archive," Centre for the History of the Book, University of Edinburgh, July
 5
2000
 
"New Neighbors for Jupiter?  Julius Caesar's Plans on the Capitoline," CAMWS, April 2000
 
"Was the Athenian Empire a Tyranny? The Case of the Eteocarpathians," with Carl Anderson, APA,  December 1999
 
"The First Public Libraries in Rome: Capitoline versus Palatine?" CAWMS, April 1999
 
"'Not worth the paper it's written on:' Literacy as a Comic Device in Aristophanes," University of  Georgia, February 1997
 
 
"The Eteocarpathian Decree (IG i3 1454) and the Construction Date of the Erechtheion," with Carl Anderson, AIA, December 1996; CAMWS Southern Section, October 1996
 
"Athena and Apollo in the Eteocarpathian Decree (IG i3 1454): Politics and Religion in the Delian  League," with Carl Anderson, Association of Ancient Historians, April 1996  
 
"Bibliothecam tuam cave cuiquam despondeas: Building a Private Library at Rome," CAMWS,   April 1996  
 
"New Inscriptions from Carthage (Tunisia)," CAMWS, April 1995
 
"Pliny's Library at Comum," Library History Seminar IX, University of Alabama, March 1995
 
"Antony Visits Varro," CAMWS Southern Section, October 1994
 
"si hortum <cum> bibliotheca habes, deerit nihil (Cic. Fam. 9.4)," CAMWS, April 1994
 
"Whatever Happened to Varro's Library?  Proscription, Bibliophilia, and Public Libraries at Rome,"  conference, "The Greek and Roman Book," University of Minnesota, October 1993
 
"'In the Shadow of Great Names:' Reading Lists in an Age of Cultural Insecurity," Keynote Address,  Annual Classics Colloquium, University of North Carolina at Chapel Hill,  March 1993
 "Cleopatra and the Alexandrian Libraries," CAMWS Southern Section, November 1992
 
"A Latin Inscription in Greek Characters and 'Bilingualism' in the Roman Empire," CAMWS,   April 1992  
 
"Establishing the First Canon of Literature: Scholars in the Museum of Alexandria," Davidson  College, November 1991
 
"Literacy and Illiteracy in the Greek and Roman World," University of North Carolina at Greensboro,  October 1991
 
"The Elixir of Memory and Wisdom," University of Michigan, September 1991: opening lecture for  the exhibition "The Beginning of Understanding: Writing in the Ancient World," Kelsey   Museum of Ancient and Mediaeval Archaeology
 
"When a Library and a Garden are Enough: Literary Culture and Political Retreat in the First Century  BCE," Michigan State University, May 1991; Emory University, November 1994
 
"Lucullus and the Hotel of the Muses," CAMWS Southern Section, November 1990
 
"'What evil papyrus is this?'  Literacy and Aristophanes' Audience," CAMWS, April 1989
 
"'Public Libraries' at Rome: Ideology and Reality," APA, January 1989
 
"Pliny's Benefactions to Comum and Imperial Policy in Italy," CAMWS, April 1987
 
"Vergil in the Grynean Grove: Two Riddles in the Third Eclogue," APA, December 1986
 
"The Genesis of Public Libraries at Rome," AIA, December 1986
 
"Sulla and the Library of Aristotle," CAMWS, April 1985
 
"Roman Libraries and Greek Librarians: The Case of Tyrannio," CAMWS Southern Section,  November 1984
 

PANELS ORGANIZED:

Co-organizer and chair, "Reacting to the Past: Student Engagement in the Classics Curriculum," CAMWS Southern Section, October 2010
 
Organizer and chair, "The Effective Classics Department," Presidential Panel, CAMWS Southern  Section, November 2008
 
Co-organizer and chair, "Bringing Ancient Athens to Athens, Georgia: Reacting to the Past," CAMWS,  April 2005
 
Organizer and chair, "IT (Information Technology) in the Ancient World," CAMWS Southern Section,  November 2002
 
Organizer and chair, "The Latin Club: It's Not Just for Toga Parties Anymore," Foreign Language  Association of Georgia, February 2002
 
Organizer and chair, "Annus unus ad cohibendum bracchium toga: The Latin Teacher's First Year,"  Foreign Language Association of Georgia, February 2001
 
Organizer and chair, "Latina reticulata: Web Resources in the Latin Classroom," Foreign Language  Association of Georgia, February 2000
 
Co-organizer and co-chair, "Teaching Archaeology: Within and Without the Classroom," CAMWS,  April 1998
 
Co-organizer and co-chair, "New Directions in Aristophanes," CAMWS, April 1989
 
Organizer and chair, "Literature, Literacy and Libraries in the Roman World," CAMWS, April 1988
 
Co-organizer and co-chair, "Pliny the Younger," CAMWS, April 1987

AWARDS RECEIVED:

Center for Hellenic Studies: Summer Scholar, 1996
 
National Endowment for the Humanities:  Travel to Collections Grant, 1989, $750: "The Circus in the Life of Roman Carthage"
 
University of Georgia: Senior Vice President for Academic Affairs and Provost, International Travel Grant, 2004, $1250: "Publication of the Inscriptions from the University of Georgia Excavations at Carthage, Tunisia"
 
 Center for Humanities and Arts, Research Fellowship, 1997-1998, $7000: "Libraries and  'Honorable Leisure:' Public and Private Libraries at Rome in the First Century BCE"
 
 Research Foundation Faculty Research Grant, 1997, $4000: "The Great Age of Libraries:  Intellectual Culture and Library Foundation in the Hellenistic Age"   University of North Carolina at Greensboro:  Summer Excellence Research Award, 1989, $4000; 1990, $4000: "The Circus in the Life of Roman Carthage"
 
 Research Council New Faculty Grant, 1989-1990, $1160: "Private and Public Libraries at Rome  in the First Century B.C."
 
Research Council Grant for New Assistant Professors, 1987-1988, $500: "Pliny's Library at Comum"
TEACHING EXPERIENCE:
University of Georgia: Visiting Assistant Professor 1985-86; Temporary Lecturer 1994-96; Assistant Professor 1996-2003; Associate Professor 2003- Elementary and Intermediate Latin, Roman Culture, Vergil, Catullus, Ovid, Petronius, Apuleius, Augustine, Early Latin Literature, Roman Epic, Roman Didactic Poetry, Roman Elegy, Latin Prose Composition, Latin Prose Survey, Latin Poetry Survey, Elementary and Intermediate Greek, Homer, Greek Prose Composition, Roman Culture, Ancient Novel, Ancient Comedy, Mythology, Ancient Roman Cities, Reacting to the Past
 
University of North Carolina at Greensboro: Assistant Professor 1987-94  Elementary Latin and Greek, Cicero, Catullus, Livy, Vergil, Latin Prose Composition,  Mythology, Literature in Translation
 
College of William and Mary: Visiting Assistant Professor 1986-87  Elementary Latin, Mythology, Greek and Roman Archaeology
 
University of Michigan: Visiting Lecturer 1984-85  Elementary Latin, Elementary Greek, English Vocabulary
 
Intercollegiate Center for Classical Studies in Rome: Teaching Assistant 1978-79, Assistant Professor   1983-84  Greek Lyric Poetry, Thucydides, Propertius, Livy, Herodotus, The Ancient City
OTHER PROFESSIONAL EXPERIENCE:
Reviewer of articles for TAPA, 2015 and for AJP, 2016
 
Epigrapher, University of Georgia Excavations of the Yasmina Necropolis, Carthage, Tunisia, 1993-
 
Co-Curator, "The Beginning of Understanding: Writing in the Ancient World," Kelsey Museum of  Ancient and Mediaeval Archaeology, University of Michigan, September 1991-February 1993
 
Assistant director, University of Georgia Excavations of the Roman Circus, Carthage, Tunisia, 1987-90
 
Square supervisor, University of Michigan-University of Missouri Excavations at Tel Anafa, Israel,  1979
 
Registrar and assistant square supervisor, University of Michigan Excavations at Carthage,  Tunisia, 1977
SERVICE:
University of Hawaii at Manoa: External evaluator of candidate for promotion and tenure, 2016
 
Auburn University: External evaluator of candidate for promotion and tenure, 2012
 
University of Mary Washington: External review committee for Department of Classics,  Philosophy, and Religion, 2008
 
University of Queensland, Australia: Evaluator of Ph.D. dissertation, 2012
 
American Philological Association:  Committee on Professional Matters, 2005-2007 (ex officio); 2009-2011 Joint Committee on Placement, 1988; 2004-2007; Chair, 2005-2007   Classical Association of the Middle West and South:  Subcommittee on the Semple, Grant, and Benario Travel Awards, 2005-08; Chair, 2006-07  Subcommittee on the Good Teacher Awards, 2002-2005  State Vice President for Georgia, 1996-2000
 
CAMWS Southern Section:   President, 2006-2008  Elected Member of the Executive Committee, 2000-2002  Chair, Committee on Local Arrangements, 2000 meeting (Athens, Georgia)
 
Georgia Classical Association:   President, 1999-2001; Vice President, 2003-2006
 
University of Georgia:  University Libraries Committee, 2004-8 Department of Classics:
Self-Study Committee for Program Review, 2002-3
Undergraduate Program Committee for Program Review, Chair, 2002-3
Undergraduate Coordinator, 2001-2008, 2009-2010
Mission Statement Committee, 1996
Awards Committee, 2001-2005
Awards and Scholarships Committee, Chair, 2005-2008, 2009-2010, 2012
Bylaws Committee, Chair, 2011-2012
Classical Culture/Archaeology Committee, 1996-; Chair, 2010-2011
Graduate Advisory Committee, 1996-
Greek Committee, 1996-
Latin Committee, 1996-
Scholarship Committee, 1999-2005; Chair, 1999-2001, 2003-2005
Search Committee, 1999-2000; chair, 2012-2013
Study Abroad Committee, 2003-2004
University of North Carolina at Greensboro: Academic Appeals Committee, 1988-89
Library Committee, 1989-93; Chair, 1992-93; Serials Screening Subcommittee, 1990-93
College of Arts and Sciences:
College Council, 1990-92; Vice Chair, Spring 1991; Committee on Committees, 1990-91   Instructional Area Committee: Literature, 1989-92; Chair, 1991-92   Western Civilization Committee
Classics Department: Departmental Library representative, 1988-1993
 
6/24/2017
 
Research

Research Interests:

Ancient Libraries, Field Archaeology, Augustan Poetry, Topography, Cicero, Intellectual and Social History