Image: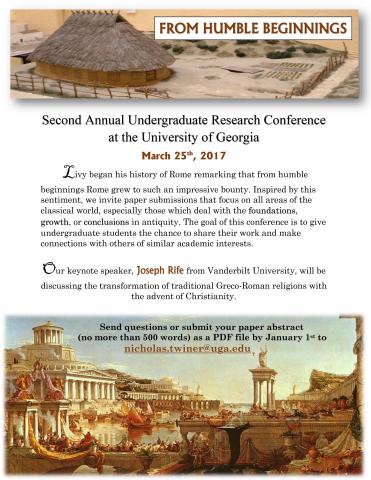 Second Annual Undergraduate Research Conference:
From Humble Beginnings Conference 2017
Livy began his history of Rome remarking that from humble beginnings Rome grew to such an impressive bounty. Inspired by this sentiment, we invite paper submissions that focus on all areas of the classical world, especially those which deal with the foundations, growth, or conclusions in antiquity. All disciplines of classical scholarship that cover Greece, Rome, and the broader Mediterranean are invited to submit, and we look forward to including a broad range of approaches and methodologies. The goal of this conference is to give undergraduate students the chance to share their work and make connections with others of similar academic interests.
The Zeta Iota chapter of Eta Sigma Phi is hosting the conference, which will bring together scholars and students from across the southeast and the country and will occur on March 25, 2017. The conference will be held on the University's campus, and we will offer tours to our visitors.
The keynote address will be given by Joseph Rife from Vanderbilt University and will focus on the transformation of traditional Greco-Roman religions with the advent of Christianity. Please submit a short abstract of your paper (no more than 500 words) as a pdf to nicholas.twiner@uga.edu by January 1st. Please keep in mind that each student presentation will be between 15-20 minutes with time afterwards for questions. The conference planning committee will meet in early January, and we will let presenters know before February 1st if they have been selected.
If you have any questions, want to learn more about the conference please email or call Nicholas Twiner at nicholas.twiner@uga.edu.